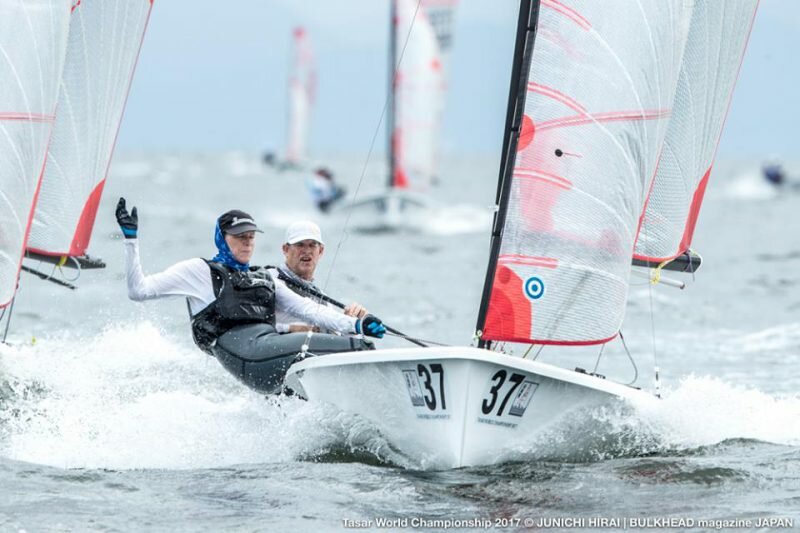 The second race day of the Tasar World Championship completed three races in Gamagori, Japan. Many Tasar sailors struggle shifty and choppy condition but it's noting for Jonathan & Libby Johnson McKee, USA2597. They post a 1-2-1 to move up to the overall lead of the 97-boat fleet.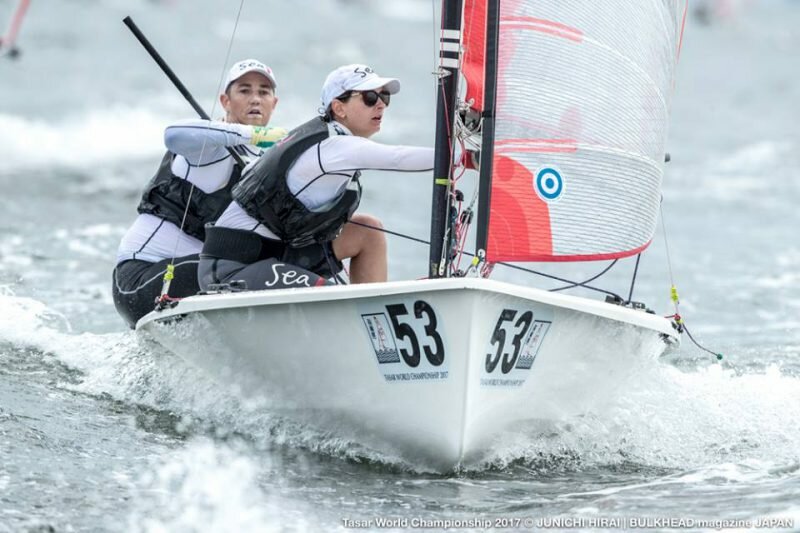 James Burman & Tara McCall, AUS2797 beat the MaKees at the second race of the day. A young couple from NSW, Australia usually race different class wanted sail together for fun. Tasar is a perfect choice to race together with world top sailors.
"I think it's good racing together before we get married" said James. "I enjoy most time of the races and sometimes…not. But it's fun" add Tara. James and Tara is 5th overall.
Leading board is shuffling race day two. Heather Macfarlane & Chris Payne, AUS2883 slipped to 4th overall. Chris Dance & Jeremy Elmslie, AUS2858 follow up with the MaKees. They are now 11point off the lead in 2nd. Robert & Nicole Douglass, AUS2848 jump up 3rd overall.
A close battle is spread between farmer and current Japanese champions. After 6 races completed, current champion Hiroshi Takahashi and Hiroyuki Sugiura, JPN2809 got 35 point and move up 7th overall. Farmer champion Hiroaki Sato and Yasuyuki Muragishi, JPN2862 also got 35point but slipped 8th overall.
"Our boat speed isn't bad for upwind but reaching is very slow. The Douglass told me hints to improve so I can't wait to race tomorrow" said Hiroshi.
There is only 10 points difference from the 2nd place to the 11th place. Keep an eye on the close races.
Racing continues tomorrow, on Thursday 3 June. Day after tomorrow, on Friday 4 June will be lay day. Typhoon Noru shows complex movements over 10 days and finally it heading to Japan!?